Providing daily meals to thousands of workers three times a day is a complicated task. Apart from the execution and logistics of procurement, food service and catering at industrial sites requires an expert team to manage preferences, nutrition, health concerns, quality consistency and variety. Getting a free and healthy meal at work is an extra perk for all employees and beneficial for the company's management as it creates a sense of belongingness among the workers.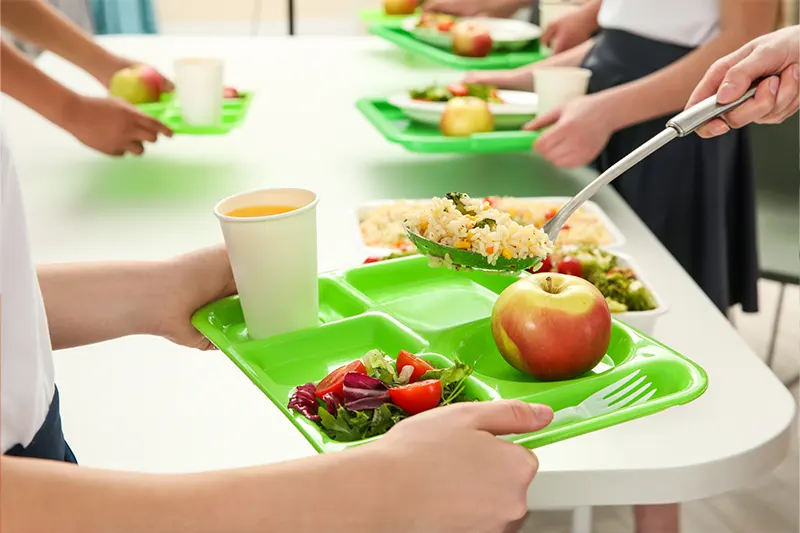 At FFS, we understand that food plays a vital role in employees that work in extreme industrial conditions and across shifts. Hence, we follow timely measured schedules for all meals - breakfast, lunch, tea, dinner, late-night meals for night shifts and snacks in between. We customize our meals as per the requirement of our sites, be it for employees at industrial sites or students at educational institutions or even patients at medical or healthcare facilities. End-to-end food and catering service solutions to facilitate smooth mealtimes and necessary nourishment. We maintain a constant level of quality in every single menu we design, keeping your budget in mind.
Type of catering services
Let's look at the type of catering services we provide:
Educational Institutes Canteen Service and Management
We are trained to prepare meals ideal for educational institutions for students, teachers and all staff members for medium to large schools, colleges, and universities. A well-defined and nutritious diet plays an important role in the growth and development of students. With customized meal plans for various age groups, tastes and preferences, we ensure an efficient and comprehensive answer to the catering requirements of your educational institution.
Using technologically advanced kitchen equipment, tasty and well-balanced healthy meals are cooked for the students on a daily basis with rigorous hygiene procedures applied at every stage from sourcing the vegetables and groceries to the final service at the counter. It is also necessary to introduce new and innovative ideas on a regular basis to prevent menu fatigue.
Industrial Catering
Industrial food catering and on premise catering both refer to providing meals at the physical location of a business. Whether it be on a daily basis or only for special events, choosing this catering service is a decision that needs careful consideration across various aspects.
A well-fed workforce equals a happy and active team every organization would want to have. Food is a basic necessity and cooking food is simple, but the challenge is to cook quality and delicious food that makes your employees smile every day! Curating meal plans for industrial workers is based on important factors like the type of work, type of industry they are working for, the number of shifts, and geographical location, climate changes, seasons, seasonality of available fruits and vegetables etc. All this and more facilitates smooth meal preparation and management with the required health and nutrition - resulting in a happier, healthier, and more productive workforce.
Hospital Catering Service
The hospital food catering service plays an essential role in providing suitable diet food for patients who are admitted for their medical treatment and their daily diet/meal plan is an essential part of their recovery. Hospitals, Healthcare and Medical facilities require meal programs that are fresh, healthy and nutritious. The in-house dietician surely prepares the meal plans and charts for the patients but the same level of good, healthy, nutritious food is required for the staff and the relatives staying with the patients.
Catering at any type of medical facility requires adherence to and compliance with all statutory bodies and certifications like FSSAI-certified ingredients, efficient resource management, modern food preparation methods, flawless distribution of meal orders, trained cooks and chefs, knowledge of special dietary requirements, including allergy specific, gluten-free etc.
Offshore Catering Service
Supplying steamy hot, tailored and quality meals at remote job sites such as oil fields or an offshore service site is often a challenge. It's no secret that those who work in the oil industries have an insatiable appetite. Our meal plans curated by offshore Food Service experts ensure to provide the on-board employees with delicious food that gives them the energy to work through the long hours of the day. We thrive not only to make the food catering service standards exemplary but also to make the hard job of living offshore more enjoyable.
With our expertise in preparing large quantities of tasty food to meet the needs of your crew, we aim to keep your offshore staff happy, healthy and productive at work.
To enhance your menu with fresh, hygienic and nutritious dishes that benefit the overall health and fitness of your employees, contact us today!