Training & Development: Key to success in the FM Industry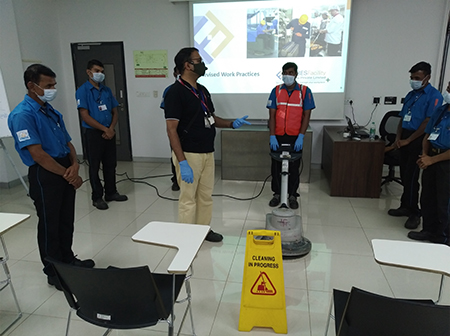 Among the most important factors for successful administration of facility management is the training & development of the staff. The ideal working environment for any facility manager is a department that can handle any cleaning requirement on time, within budget, and with perfection. Achieving these quality standards needs time and sustained effort.
When it comes to training, there is a common myth that says "once trained is fully trained." Training is an ongoing and life-long process. Repetitive training is useful in filling in the gaps that might have been missed out the first time around or upskilling your staff with a new set of skills.
Since the scope of Forbes Facility Services and training are extremely broad. The type of training you choose should depend on the core skill, management, and technical competencies you have established; the skill level of your staff; and the needs of the facility. New departments and established operations will require different types of training. For example, a newly formed group may need training that focuses on issues of team building and interpersonal communication skills. Other training may focus on technical areas currently necessary to complete the work of the department.
Industrial Training & Development enables employees to acquire a new set of skills, sharpen the existing ones, perform better at work and increase overall productivity. Since the success of every company is the grand total of what all employees achieve individually, every organization should do everything in their power to ensure that employees perform at their peak.
We at FFS provides Facility Management training to each of our employee that includes Technical aspects such as using automatic machines, cleaning chemicals, mopping floors, Glass Cleaning and Non-technical skills such as Personal Hygiene and Basic etiquette applicable at the workplace.
Regular Training & Development Programs
Periodical Training and development sessions can have a huge positive impact on a company's overall growth. Like every other strategic business unit in your company, training and development should be focused on producing targeted and tangible results for the business. The key is to treat it seriously, consider it a capital investment, and make it results-driven.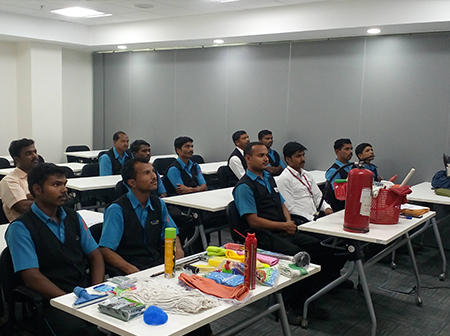 Increased productivity
In a rapidly evolving landscape, productivity is not only dependent on employees, but also on the technology they use. Training and development go a long way in getting employees up to date with new technology, using existing ones better and then discarding the outdated ones. This goes a long way in getting things done efficiently and in the most productive way in overall Operations & Maintenance of the business operation processes.
Untrained Employees May Put You at Risk
So far, we have mostly spoken about how learning and development reduce employee churn, attract new hires, and improve your bottom line by making companies smarter and more productive.
Training Employees Improves Your Bottom Line
Employees are a company's greatest asset. With the right & trained team in place, any company can see skyrocketing growth for sure. With learning & development focusing on filling in knowledge gaps and upskilling employees by focusing on the strengths of their employees, a company can ensure an enhanced increase in its overall gross revenue.