Transforming the Facility Management practices in educational institutions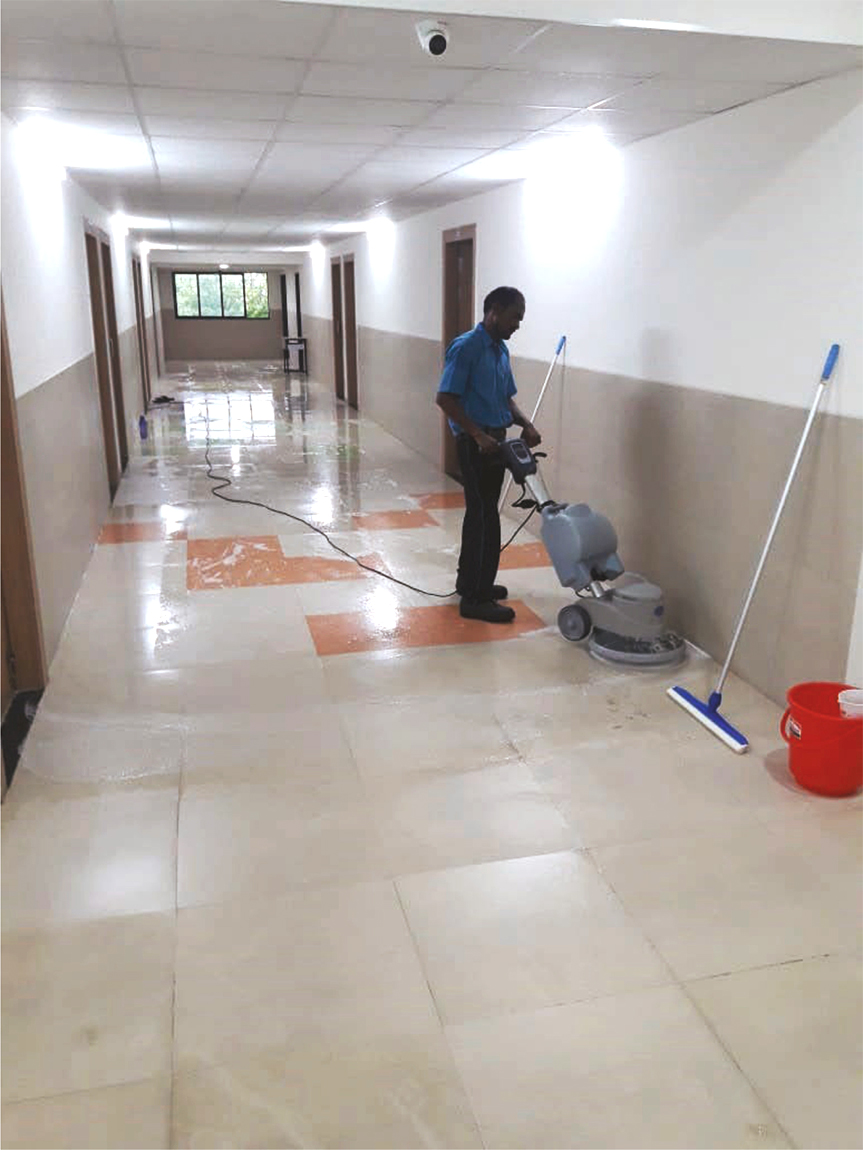 In the wake of the changing scenario of the education system and work life, the student population in residential schools has been rapidly increasing. This entails all measures to ensure healthy and hygienic living. The first and probably the only among the over 40 schools in Aurangabad, Nath Valley School, has outsourced its catering and now its housekeeping to FFS. Mohana M, Editor-Clean India Journal makes a tour of the 20-acre property to experience professionally maintained premises.
The catering & cleaning requirements of a school are unique in every aspect. Most of its occupants are children. Paper and dust are among the major contributors to the waste generated, and because of high volumes, students are as responsible for the cleanliness of their campus as the people employed for the job. FFS began with the catering services at Nath Valley School in Aurangabad. And in a short time took up the housekeeping of specific areas.
The premise includes 10 buildings, including a science block, primary block, lunch room, administration office, sports facility, amphitheatre, boys' hostel, girls' hostel, staff quarters and the principal's residence. In between, there are football and cricket grounds, and tennis and basketball courts.
Describing his idea of an ideally clean campus, Ranjit K Dass – Principal, Nath Valley School, said: "There should be no stacks of paper lying around. And no leaves or dust on tabletops or in corridors. Preventing windows from getting grubby is always a challenge; they should be spotless. Moreover, there should be no pooling of water anywhere on the grounds. Washrooms have to be immaculately cleaned. This was the biggest problem when we functioned without professional cleaners."
Opting for Professional FM Services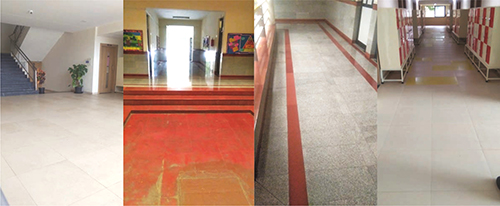 "We have been observing major gaps in cleaning when it was done by people who were not trained for this task. Even the supervisory staff neglected hidden corners in toilets, backyards and unused spaces. Only the main areas — where the principal was likely to visit and walk around – were consistently kept neat and shiny."
These blind spots existed because the cleaners were not trained to identify them and come up with solutions. The school management was also not aware of the latest cleaning machines, or the types of chemicals most suited to their requirements.
The switch to proper Facility Management was incremental. The parent of one of the school's students had started an industrial cleaning company and asked if the school would like their services. It was brought on board, and did a satisfactory job, but was a small organisation and was hence limited in its capabilities. Nevertheless, a beginning was made.
The school then decided to tie up with a company that has a much larger profile, and would therefore follow the best practices. FFS, which had already been providing catering services to the school for two years, was brought on board as the Facility Management partner. With its expertise in mechanised cleaning, Dass says that cleaning began to be done much faster, more efficiently, and closer to the six-sigma concept of zero faults.
FFS' FM program
FFS took over with the understanding that the cleaning costs for the school should not increase. At each new facility, it typically retains 30% of the existing staff, and hires 70% as new employees, with a mix of locals and outsiders. Each member hired went through an induction process that included training in the key do's and don'ts, and personal grooming. Soft skills training and POSH sensitisation were also provided. Each employee was given three sets of uniforms too.
At the school, the team consists of 13 members, who clean all the buildings except the hostels in a time-staggered manner. At 2 pm, the primary school building cleaning begins, followed by the secondary school building at 4 pm, followed by the media centre and the art block. At 6.30, the cleaning of the large new building begins, with one person assigned to two rooms to cover all 24 rooms. The canteen is the last to be attended to, between 9 and 10 pm. By working as a team, the staff can comprehensively clean the internal areas of the entire school. For the new wing and regular cleaning, auto scrubbers are used, while single-disc machines are used for deep cleaning.
The school kitchen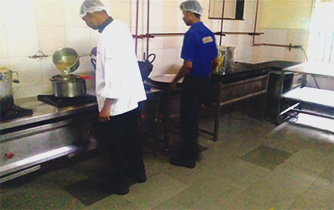 Earlier, Nath Valley School was a day-boarding school, hence only lunch and evening refreshments were required to be provided. At present, the FFS team caters to all meals from breakfast to dinner.
The school's Admin officer coordinates the menu with inputs from students and staff, as well as from students' parents. But finally, they rely on the expertise of FFS, which has trained its chefs and developed its menus. The FFS official said, "We have a weekly menu which is different every week and is subject to confirmation by the client. By every Friday, the menu for the next week is frozen, and the weekly indent is sent out."
All food supplies are sourced from local vendors. Orders are placed over a phone call, which is followed up with emails. FFS does a lot of research before onboarding a vendor, and studies where he is procuring from, whether he can consistently supply a certain volume and whether the quality of his groceries is up to the mark. Every month, a vendor re-evaluation is done; the parameters monitored are quality, timely delivery and adherence to SOP.
The kitchen team consists of 28 members: 11 in the kitchen, 10 serving staff and seven to eight washing staff. Vessel washing is still done manually. Work begins early at 4.30-5 am, when vegetables are sorted, washed and readied for cooking. The same dishes are prepared in three different ways: mildly spiced for children in Grades one to three, a little spicier for the senior students, and separately to suit the tastes of visitors and staff.
Hygiene is part of FFS's work culture and daily operations.: "It is often more hygienic to wash and sanitise hands regularly than use gloves, which need to keep being disposed of, and increase the chances of food contamination." FFS plans to have day-specific aprons and duster, which are colour-coded for use according to the day of the week, to ensure they aren't re-used without being washed."
Student involvement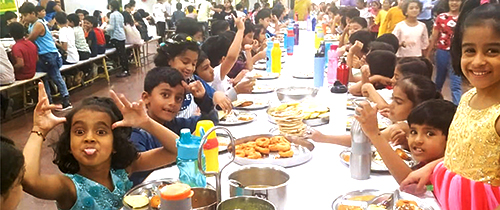 The Nath Valley School is different from others in more than one way: students are encouraged to be outspoken, particularly about things that concern them directly. At student council meetings, students often bring up toilets and hygiene, including the present situation and what changes are required.
Dass gives an example: "In the new building, we have push-button water taps in washrooms. I got a note from a student saying that this wastes a lot of water since water still runs even after a student's hands are clean. He suggested installing a type that is also push-button, but can be manually turned off as well."
He has considered the idea of implementing a Japanese concept in which the last five minutes of a school day are dedicated to students cleaning their classrooms. After school functions, the whole school participates in Shramdaan, where everyone is involved in scrubbing desks, windows and toilets. "I tell students, if you want a clean toilet, you must leave behind a clean toilet," says Dass.
Future plans
The Nath Valley campus is home to a biogas plant, which provided fuel for at least one gas cylinder. However, maintenance was a problem, and the plant has been defunct for two years. The school and FFSplan to make the plant operational once again.
Since the school has vast open areas, FFS also wants to start horticulture on the grounds. It will also install air curtains by the next quarter, and intends to introduce basic automation like potato peelers and vegetable cleaners.
At present, most cleaning takes place after school hours, or when a particular building is not in use. To maintain hygiene standards throughout the day, FFS also wants some areas like toilets, staircases and corridors to be cleaned during class hours as well.
The symbiotic relationship between Nath Valley School and FFS is one that other schools should seek to emulate. As schools upgrade their infrastructure and curriculum, it is only fitting that they upgrade how they manage their facility as well.
Read More: Need for Digital Compliance in FM Industry