In large industrial establishments such as manufacturing plants or factories, the main concerns of employers and employee unions are critical aspects like providing safe working conditions, on-time wages, job security, shift management etc. The site canteen or cafeteria is only a space to feed daily meals. When we think about the factors that contribute to good workplace performance, we rarely give much consideration to food. However, a good meal has a direct impact on our cognitive performance, which is why a poor lunch can spoil your entire afternoon.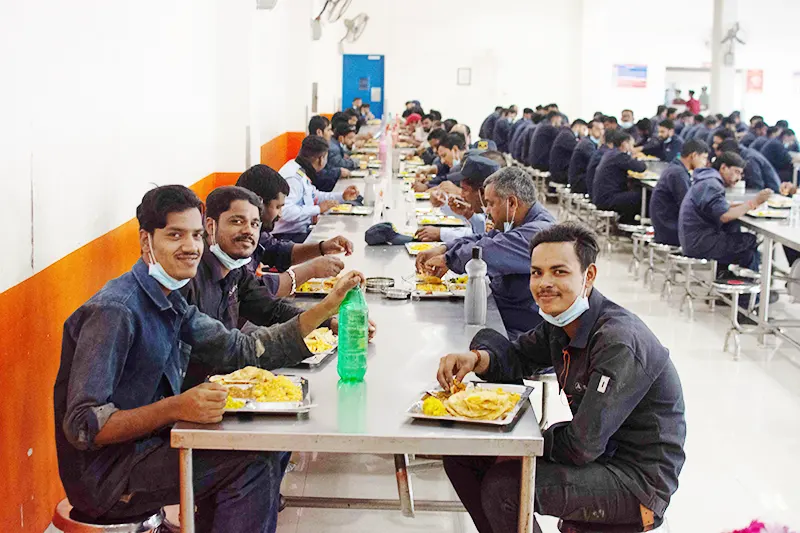 At FFS, food servicing and industrial catering are essential services. We come with years of experience and expertise in industrial food servicing and catering that has enabled us to understand the needs of employees at industrial sites and ensure they are healthy, nutritious and productive. Our teams take extreme care - right from meal planning, menu design, procurement of fresh nutritious produce and preparation of each meal keeping in mind health benefits, seasonality and local tastes and flavours. The food we cater at the facilities largely impacts motivation and productivity at work. Therefore, providing nutritious & well-planned meal programs in workplaces is an important factor for every company's management.
Benefits of having a well-planned, healthy menu design at industrial sites
There are many benefits of having a well-planned, healthy menu design at industrial sites. Let's discover the benefits of having healthy meals in the workplace:
1. Boosts Employee Morale at Work
Employee morale is the satisfaction, attitude and overall outlook employees have toward the company or organization they are working for. To retain a strong workforce with a positive working attitude toward your company and uninterrupted operations, it's now essential to offer a well-planned menu and dining experience for your employees.
The way people work has changed drastically over the last few years and nothing delights the modern workforce quite like food. When they see the company taking an extra effort to nourish the workplace with a quality food program, they feel genuinely taken care of by their company management. This strengthens a positive attitude at work, increasing employee morale and also helping to reduce attrition.
2. Improves Productivity
The food we eat can directly impact our productivity and performance regardless of the type of industry or type of work we do. Our body converts nearly everything we eat into glucose — the energy we need to keep the brain alert. If it receives insufficient glucose, it can result in a loss of focus.
But, not all foods convert into glucose at the same rate. Unhealthy meals that release glucose too quickly can decrease our productivity.
A well-planned meal program made up of green vegetables and pulses contains nutrients that help produce dopamine, a neurotransmitter that contributes to learning, attention, memory and motivation. This healthy meal plan gives workers the energy they need to perform hard duties at such facilities.
3. Promotes Healthy Eating Habits
There are many benefits that come with providing food to employees, one way to do this is to foster a healthy environment by providing more nutritious food options. Rather than stocking vending machines with chips, sodas and candy, allow your employees access to healthy foods made of green vegetables & pulses. To foster a better work environment at your facilities and inculcate the importance of a healthy lifestyle, consider expanding your menu with more nutritious food options.
4. Builds Employee Relationships
Good food can help build better employee relationships and improve the overall work culture. Lunch breaks are the perfect opportunity for employees to engage in conversation and get to know each other in a better manner. Developing a healthy dining experience that promotes togetherness is an excellent way to build a great place to work.
We aim to help facilities enhance their workplace culture with good quality food and refreshment services - keeping their workers happy, healthy and productive at work. To expand your menu with a fresh & hygienic menu, and healthy meals and encourage healthy living among your workers, contact us today!
Also Read: Fortify Your Industrial Site with These Safety Tips - FFS