Food safety and hygiene are the foundation of our healthy living. It is a major determinant of good health, nutritional status and productivity of the population. It is, therefore, essential that the food we consume is wholesome and safe. Most foodborne infections can be prevented with proper food hygiene practices. Food safety is about handling, storing, and preparing food in a manner that prevents infections or diseases and retains maximum nutrients for a healthy diet. The principle of food safety is to prevent food items from becoming contaminated and causing food poisoning.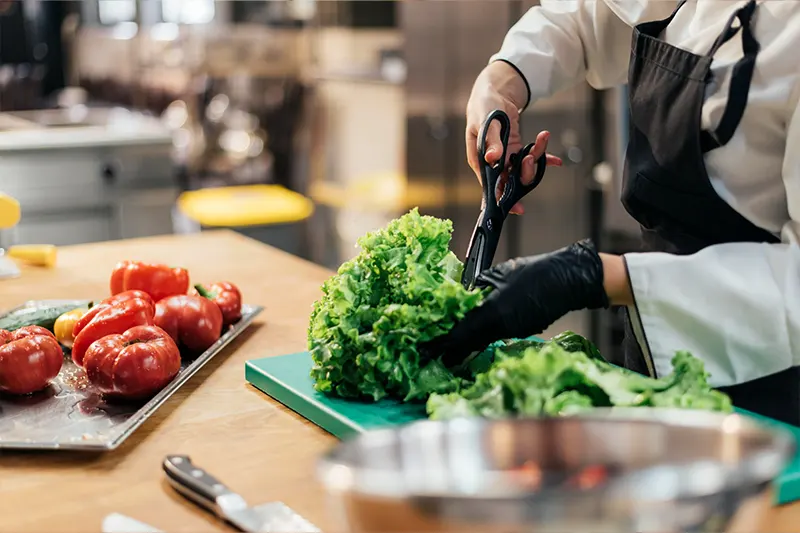 Importance of healthy and hygienic food
In every food catering business, food safety and hygiene are of utmost importance as it helps to protect the health of the consumers from food-borne illnesses and food poisoning. The disease occurs when food becomes stale or gets contaminated by bacteria, viruses, fungi or any other germs.
Food hygiene & safety is important to push the good health of the population as they contribute to food and nutritional security, citizens' health, and therefore the progress of the nation as a whole. Food businesses have accountability of care when distributing food to consumers. Food safety and food hygiene are the two requisites of every food industry and should always be the top priority.
Characteristics of Food Hygiene and Safety
Quality Raw Materials
The availability and uninterrupted supply of quality raw materials required for cooking food is a prerequisite in the food service industry and inspection of the raw materials used to prepare food on various quality benchmarks is the first stage in the overall quality control process. The procured raw materials must go through rigorous checks for impurities, including dirt, germs, fungus, pesticides etc. The quality of the raw materials can be further evaluated using tests for pH, moisture content, and protein content. The importance of using quality raw materials in the food catering business is absolute, not only to deliver the taste and good experience to the consumers but also because it is a commitment to the safety of all those people who eat the food.
Food Quality Standards
There are various food safety and quality control regulations mandated by law for the food industry. The most common quality standards are the Food Safety and Standard Authority of India (FSSAI) and Hazard Analysis and Critical Control Points (HACCP), created to address food safety by analysing and controlling biological chemicals or physical hazards throughout the food supply chain. These Food standards protect consumers from being cheated and also provide information about making the right food choices.
Food Safety and Hygiene Practices
A safe and hygienic workplace helps the workforce to be productive. That's why having a well-defined food safety and hygiene policy is necessary so that it can ensure quality food service and good health of the employees who are dependent on the daily meals served at the facilities. Besides employee health, sound food hygiene and safety practices prevent illnesses which may cause an unplanned interruption of operations due to the absence of the employees at work.
Thorough Cleaning
Germs that can make you sick can survive in many places around your kitchen, including your food, hands, utensils, cutting boards, and countertops. It's imperative to ensure the area where you're working is clean and hygienic, this involves:
- Methodically cleaning and sanitizing the kitchen area, countertop, stoves, utensils, chopping boards, knives, mixers and other equipment before, during and after cooking.
- Thoroughly rinse vegetables, fruits, rice, pulses etc. under running water
- Washing the dishcloth with hot water
- Using separate plates and utensils for cooked and raw foods
Personal Hygiene of Food Handlers
It is necessary to ensure the people handling the raw materials and food like all the kitchen staff, cooks, chefs etc. are all following the highest standards of personal hygiene. Everyone on the kitchen floor needs to be in the correct uniform wearing protective gear like gloves, masks, aprons, and hair caps ensuring there is no possibility of human touch that can cause contamination.
To prevent food poisoning using good personal hygiene, follow these tips:
- Thoroughly wash hands with soap and hot water, before, during, and after handling food, to make sure no germs from your hands are transferred to the food
- Wear clean clothes to work, to confirm no germs from your clothes transfer to the food
- Wear gloves if you're handling food with bare hands
- Tie hair back or wear a hair cap to ensure no hair falls into the food
- Wear a face mask in case you are prone to cough or sneeze over food
- Cover all cuts and wounds with a wound strip or bandage and inform your supervisor immediately if you feel unwell
Safe Storage
Food storage broadly refers to the different ways through which food can be kept for a longer duration without the food going stale. Food poisoning is frequently caused by bacteria from foods that have been incorrectly stored. Proper food storage helps to preserve the quality and nutritional value of the food and also helps make the most of your money spent by preventing spoilage. Foods should be stored differently based on how fast they will spoil or lose their flavour.
Foods can be categorised into 3 groups:
Perishable (e.g. milk, meat, raw fish)
Semi-perishable (e.g. vegetables and grains)
Non-perishable foods (tinned or dried food)
Food Safety Auditing
A food safety audit is a systematic activity in which objective evidence is gathered and assessed to determine if a food safety system is appropriate and effective enough. It also provides evidence that food is prepared in a safe & hygienic environment and helps determine if hazards are properly identified and controlled or eliminated. Food safety audits can be used to select raw material suppliers, gain food safety certification or recognition, and monitor internal compliance with policies and procedures.
Audits can be classified as first, second- or third-party audits:
First-party audits or internal audits are conducted internally, i.e. within the organisation. They are used for self-assessment, verification of internal standards and continual improvement.
Second-party audits are conducted by a primary organisation on their suppliers and subcontractors to determine their suitability and evaluate their performance in providing safe ingredients or products.
Third-party audits are done on a primary organisation by an external and independent body to verify that a food safety system has been documented and implemented according to specified requirements.
We aim to help facilities enhance their workplace culture with good quality food catering and refreshment services - keeping their workers happy, healthy and productive at work. To expand your menu with a fresh & hygienic menu, and healthy meals and encourage healthy living among your workers, contact us today!