With the growing necessity to reduce carbon footprints and contribute to ESG goals, horticulture at industrial sites is becoming the need of the hour. Let us understand what horticulture is and its importance at industrial sites.
What is Horticulture?
Horticulture is the applied science and art of designing, cultivating and growing plants in a defined area that are used both for consumption plus ornamental and environmental purposes. The word horticulture literally means, the culture of a garden. It is a unique form of agriculture wherein specialised horticulturists understand your location and terrain and design a sustainable green landscape. This landscape includes a wide range of trees, plants, flowers and vegetables. The green mix is made keeping in mind the various ecological and sustainable benefits that the piece of land can create.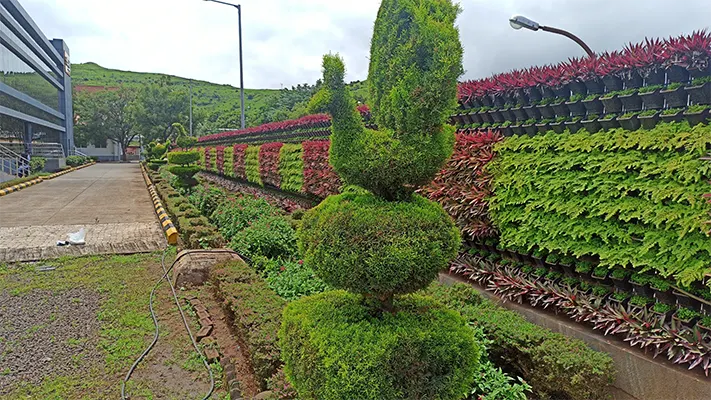 How is Horticulture at Industrial sites different?
When horticulture & landscape planning, development and management takes place at an industrial site there are many parameters that need to be taken into consideration, like the type of industry, the levels of pollution created, the available green development area in comparison to the industrial area, the number of staff at site, the machinery deployed and many others. These factors help the horticulturists define the objectives and accordingly design the landscape with the appropriate choice of trees, plants, vegetation and flowers. Every selected plantation has a positive ecological impact on the site that creates an overall sustainable ecosystem.
Benefits of Horticulture at Industrial Sites:
Reduces temperatures by 5-7° (ref. USDA Forest Services)
Controls air pollution from plants like Neem, Cassia, Karanj & Pelta
Provides enough Oxygen
Decreases noise pollution
Increases overall biodiversity
Improves aesthetics
Different types of species for industrial sites
Species for Soil Conservation:
Anacardium occidental (Cashew)
Ailanthus malabarica(Alston)
Cassuarina equisetifolia (Beef-wood)
Pongamia glabra (India beech)
Thevetia Peruviana (Yellow oleander)
Thespesia populnea (Indian Tulip)
Vitex negundo (Sephali)
Species for giving us the shade
Pteropsperum acerifolium
Albizzia lebbek
Pelptophorum
Michelia champaca
Anthocephalus cadamba
Dalbergia sisso
Glyricidia Maculata accer
Species tolerant to Dust and Smoke
Acacia auriculiformis
Alstonia soholaris
Butea monosperma
Ficus Benjamina
F. benghalensis
Madhuca Indica
Pongamia glabra
Trees for Noise Reduction:
Terminalia Arjuna
Alstonia scholaris
Azadirachta Indica
Butea Monosperma
Mangifer Indica
Madhuca Indica
Juniperus chinesis
FFS Horticulture Services at Industrial SItes USPs
FFS provides end-to-end Horticulture Services at Industrial sites, from research, planning, designing to execution, management and maintenance. Here are our USP's:
A dedicated team of experts for horticulture services
Expertise in a survey, designs, drawing, execution & maintenance of landscape gardening
Sustainable, innovative and cost-effective horticulture services
Innovative concepts like vermicomposting & organic pesticides, kitchen gardening, nakshatra gardening, medicinal & ornamental tree plantation, afforestation and green belt development etc.
Our Horticulture Services at Industrial Sites
Landscape & Garden Development
Formal/informal garden
Township garden
Industrial garden
Lawn development
Beautification Of Existing Facility
Lake and pond beautification
Ornamental & medicinal tree plantation
Vertical / Terrace / Nakshatra / Kitchen gardening
Parking beautification
Wind resistance, scented flowers tree plantation
Indoor & Outdoor Plantation
Indoor Plants - Useful for absorbing potentially harmful gases & cleaning the air.
Outdoor Plants - Air purification plantation for STP Plant area.
Value Added Services
Innovative concepts like vermicomposting, herbal/organic pesticides
Development & maintenance of terrace, kitchen & nakshatra gardening
Air purification plants for indoor and outdoor premises
Artistic landscaping and gardening
Afforestation and green belt development
Medicinal & ornamental tree plantation
Lake, pond and fountain beautification
Customised beautification packages as per client-specific requirements
Also read: Need for Digital Compliance in FM Industry