Know Why Your Facility Needs Exterior Window Cleaning?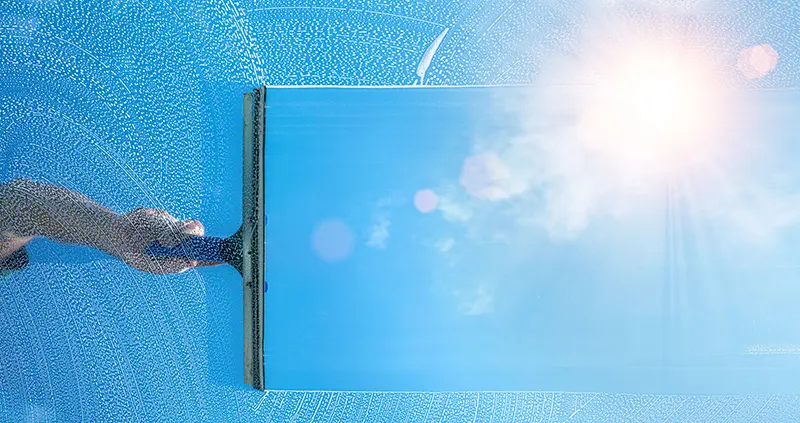 Maintain a smudge-free atmosphere in your company's facility by keeping every surface, including your windows, clean and sparkling. We provide flawless window cleaning for commercial properties, allowing each space to truly shine. You can entirely trust our expertise and enjoy a pristine view that will preserve your company's professional image both inside and out, thanks to our extensive experience in everything from high-rise buildings to corporate offices.
While it is important to ensure that the interior of your office is functional and aesthetically pleasing, maintaining your office building's façade is just as essential. It is your building's face to the world after all, and it can significantly impact how both potential and existing customers perceive you. A neat façade cleaning can help you make a good impression on them. It makes you look professional, credible and welcoming.
A clean building is aesthetically pleasing to everyone and will boost your business. Façades look best when they are free from dust, grime, or other types of stains. Clean buildings make a great first impression. However, one of the most overlooked parts of a commercial building is the facade. The facade is your building's first impression, the state of the facade has a significant reflection on your brand.
Dirty or poorly maintained facades are a red flag that can make clients run in the opposite direction. Thus, making sure your building facades are cleaned regularly is critical. The question is, when should you have your facade cleaned, and more importantly, how often should you have it done?
An expert facade maintenance company knows the different specifications to consider in facade management. This means professionals have the right cleaning agent and equipment to clean your building effectively.
Aside from looking cleaner, there are a lot of significant benefits that your business can get from having your facade commercially cleaned on a regular basis.
Improves Staff Productivity
The work environment that you're in has a significant impact on your productivity. A dirty and cluttered workspace may distract employees and compromise productivity. On the other hand, the office surroundings are clean, employees are better able to focus more on the tasks at hand.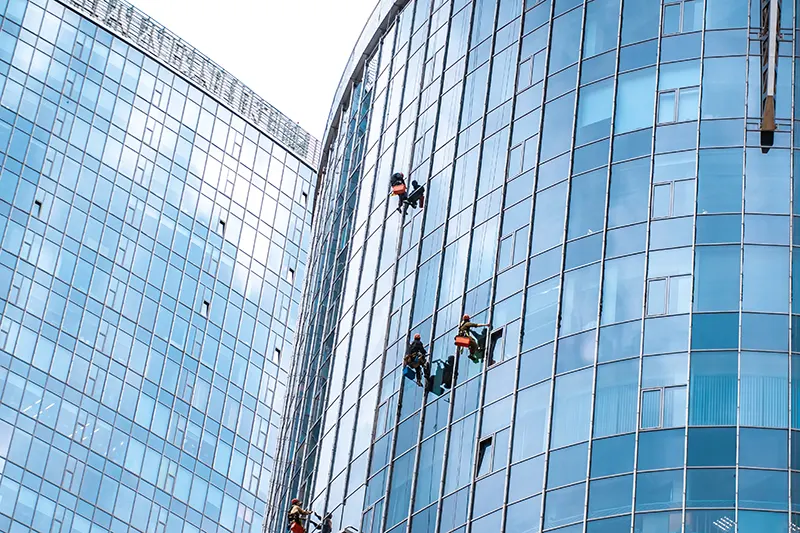 Helps Reduce Damage
Concrete facades are porous, which means that their continuous exposure to natural elements such as pollutants and dust can affect the strength of the facade over time. When the building's exterior is weakened, it can lead to costly damages. Keeping your facade in tip-top shape will reduce damage and allow you to stay on top of things.
Promote A Positive Image
Maintaining a positive brand image is one of the most fundamental aspects of a successful business. It encompasses various elements – from online identity down to the look of your workplace. A bright, clean, and impressionable curb appeal can make or mar the perspective of a potential customer, employee, or associate. That's why hiring professional window cleaners is the better choice since they can promote your image by ensuring every inch of your facade is spick-and-span. This will boost your credibility and make for a reliable first impression.
Support Building Maintenance
Most businesses are likely leasing their space, which means that property maintenance is part of the lease requirements. Keeping a clean and well-kempt facade is a big part of it, but commercial window cleaners can ensure your building stays on par with your building's codes.
The best part is that in addition to cleaning services, experts can also help you identify the early signs of deterioration on your exterior surfaces. This will help you nip any problems in the bud to avoid expensive repairs.
Extend The Life Of Your Windows
All of this can result in distorting your glass windows, leaving your window unchecked and trapping dirt, debris, hard water, and acid rain. To that end, professional cleaners can eliminate corrosive materials from your windows and minimise the risks of cracks in the future.
An office building's or facility's facade has a significant impact on your business appearance. It can set a positive tone for your customers and enhance your credibility, resulting in your brand image being positive.